Governor Phil Scott Proclaims February 10 as Active Play Awareness Day; Highlights his Administration's Commitment to Preventative Health Initiatives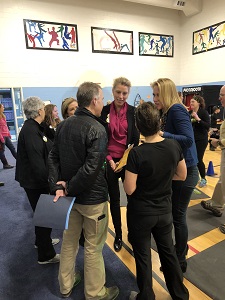 Montpelier, Vt. – On Saturday, Governor Phil Scott joined the St. Albans community for RiseVT's "Healthy Hearts" event, where he participated in activities promoting healthy behaviors and signed a proclamation to declare February 10, 2018 as "Active Play Awareness Day" in Vermont.
The community event – held by Northwestern Medical Center with support from the Family Center of NCSS and additional partners – hosted hundreds of children and families for a range of activities to promote health. The Vermont Department of Health also participated. 
As part of his Administration's work to transition to a prevention-focused model of care that helps Vermonters improve health while moderating healthcare costs, Gov. Scott proposed investing $500,000 to support preventative health strategies. This includes a school-based dental health program, and a voluntary universal home visits program for newborns and their mothers, which has extended support for babies exposed to opioids and other substances.
The Governor's remarks from the Healthy Hearts event follow.
GOVERNOR SCOTT: Thank you for inviting me to participate this morning. Since becoming Governor, I haven't had as much time to exercise as I used to, but that's no excuse. Sometimes you just have to get creative and pay attention to the little things. Like, at airports, I try to take the stairs, instead of the escalator. And I got a recumbent bike at home so that whenever I'm reading at home – and I do a lot of reading – I can pedal at the same time. Or, in the summer, I bring my bike with me as I travel the state, so that if I get an hour between meetings, I can get in a ride. And, on Sundays, I try to do something active with Mrs. Scott, like hiking or cross-country skiing.  
In fact, my wife is at a Cross Fit competition this morning – have you ever heard of Cross Fit? It's like an aerobics class combined with weight lifting. It's a great workout and the First Lady – who is also a nurse – says its lots of fun. She gets up at 4:15 a.m. every day to do it, which is probably why she is in better shape than me.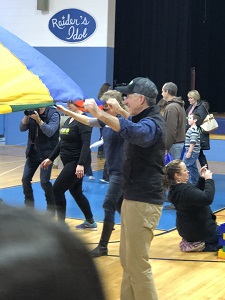 I'll be brief, so we can get back to the activities. I want you all to know that what you have started here in Franklin County is important, and it is also an example for the rest of the state on how we can inspire everyone to have healthy active lifestyles – and have more fun!
Rise Vermont isn't just a program, it is a movement that is focused on giving every Vermonter and every community the things they need to be happy and healthy, to keep moving and get plenty of fun exercise. 
Everyone has different reasons for staying or getting in shape. I started decades ago because I wanted to be a better race car driver by increasing my endurance. But, I've found it also makes me feel better, and I know, if we do these things we'll live longer, there will be fewer diseases like diabetes and heart disease and healthcare costs can go down.
The whole idea is to make sure we are all focused on taking charge of our own health. And RiseVT does that by helping each community meet its own goals. Because as we know, every person and every community is unique – one size does not fit all.
Here's something you may not have heard: RiseVT is working so well here in Franklin County that hospitals across Vermont are expanding it statewide.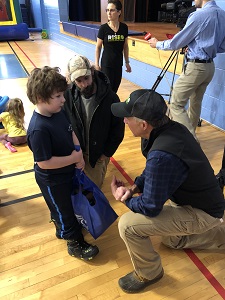 This way, other communities will be able to come together, and have fun events like this to promote better health and more activity. 
The State of Vermont funds lots of programs to help Vermonters be healthier.
But RiseVT will be an important part of keeping our state moving and focused on keeping you healthy, as much as we currently focus on helping you when you are sick. Because by preventing illness everyone feels better, and it helps to lower healthcare costs, which we all know can be very expensive.
I know you want to get back to the activities, so I am delighted, as Governor, to sign this proclamation officially declaring today, February 10, 2018 "Active Play Awareness Day."    
-END-
Click here to view the Active Play Awareness Day Proclamation.